Writer Watching Movies: KING ARTHUR 2017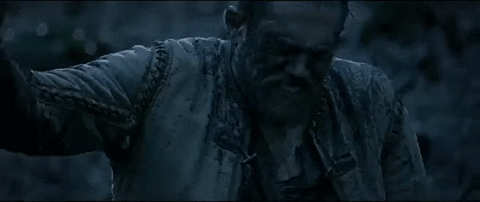 (Mainpain - the only thing that apparently mattered in this movie)
...in which I am disappoint...
WARNING: Spoilers will abound in this review. Read at your own peril!
So one of the few downsides to becoming a writer and learning more about how story works, is that it can be hard to sit back and simply enjoy media. Books, TV, movies – all of them can be a blast, and reading in particular fuels the writer's mind, but the more I write, the less I find myself capable of ignoring lazy storytelling even on screen. Sometimes, I can manage to just check out and enjoy a ridiculous B-rated action movie, but at other times, I find myself annoyed and turned off by too many clichés or poor treatment of women or people of color.
The latter is sadly what killed some of my enjoyment of the new Guy Ritchie take on the King Arthur myths. If you follow my twitter feed or personal FB, you might have seen the start of my thoughts on this film in particular. Overall, it was the fun and frantic action with the quick dialogue and rough and tumble feel that I usually love with a Guy Ritchie film. Even better, of the main group of guys that eventually became Arthur's nights, three of them were men of color AND NONE OF THEM DIED! That alone would be worth quite a few points in my book considering I was damn near waiting for at least one of them to sacrifice themselves for the white guy main lead for most of the movie. They also played a fun sort of havoc with the King Arthur myth while still keeping the feel of the story in my opinion, and good LORD some of the cinematography and special effects were just flat out stunning.
So yeah, normally this would go right up the list of some of my fave action films.
And yet.
Admittedly, Guy Ritchie films aren't often the best example of feminist films, but after the awesome that was Gaby in MAN FROM U.N.C.L.E., I have to admit, my bar was raised a little higher than it might have been otherwise. But man did this movie drop the ball on that. Admittedly there were some positives with regards to the ladies: for a movie where Arthur was raised in a brothel, I don't believe we ever saw a shirtless lady. Charlie Hunman showed far more skin than any of the women, and the main characters on the hero side definitely seemed to respect the whores as people more than I would have expected in a "historical fantasy" film. Lord knows, Game of Thrones would have treated them far worse.
However, that doesn't make up for the FOUR, count them FOUR women who were killed on screen, who together shared maybe ten lines total, and who seemed to exist only to further the plot and/or character development of either Arthur or Vortigern. That's it – that was their whole purpose in the film.
AND THERE WERE FOUR OF THEM. Half of whom never even got a name on screen. Not only is it a really shitty way to treat women in film as nothing more than "dead and thus source of manpain," but it was also horribly clichéd and lazy writing. Now, admittedly, the first two I could sort of deal with, to a point. In order for Arthur to end up raised in a brothel, obviously his parents were going to die. And at least Igraine (who I only knew was Igraine because I know the lore & IMDB listed her – she was NOT given a name on screen) died with Uther, so it wasn't just Arthur watching his mother die. Still lazy writing but meh. The other early death of Vortigern's wife, Elsa (who again, I only the name of because of IMDB) was horrific in that Vortigern sacrificed her to a trio of underground Ursula-esque lamia/siren/creatures in order to increase his magical power enough to defeat Uther. Plot and character wise, it did indeed establish that Vortigern will do anything for power, but the way the film centered the death around how hard it made the man cry to have "killed someone he loved" made me cringe more than a little. Plus, talk about a complete and utter waste of Katie McGrath in a King Arthur film to have her die roughly in the first ten minutes if even that long. I mean, it's KATIE MCGRATH. Why would you do that?
In any case, these two deaths happened in the prologue portion of the film, and I could almost put up with it as establishment of tragic past and villainy. It still irked me, but I could deal.
But then it just. Kept. Happening.
Next to die was Lucy, one of the whores Arthur looked out for and who he'd gotten in a tussle with the Vikings over due to her being beaten (off screen thankfully). Or… at least I think it was Lucy – the scene where she dies, Vortigern literally lines up all of the whores and refers to them as if they were one interchangeable line of women and then slits one of their throats to force Arthur not to fight or risk any more of them being murdered. It happened so quickly that I honestly only assume it was Lucy as that would likely increase Arthur's manpain even more since we've seen her already play the injured and protected whore earlier. But yeah, she basically only existed to die in front of Arthur. That was it.
Added bonus to this clichéd and lazy death was that it actually lessened the impact of yet another death in front of Arthur that occurred later on, this time when one of his street buddies, Back Lack, had his throat slit by Vortigern while Arthur and Back Lack's little boy watched. That one should have had more emotional impact, especially with the kiddo there, but instead it just felt tired and repetitive.
Repetition is the theme of the final fridging incident, too. As in an almost identical scene with identical motive of Vortigern's first kill. This time, instead of killing his wife as a sacrifice, he murders his daughter as a sacrifice. And even the choreography of the scene was super similar as were the lines that both mother and daughter had to say. And then, once again, the scene focused on how horrified and heartbroken Vortigern was. It was made very clear from the way it was filmed that we were supposed to feel pity for Vortigern there. For "having to" slaughter his "beloved" daughter. Excuse me while I throw up in my mouth a little.
So yup – four separate, painfully clichéd, and repetitive fridging of women for no other purpose than manpain. Oh. What. Fun.
The poor treatment of women doesn't actually end there either, sadly. Because yes, there was one, single solitary "badass" female character in the film: the mage. However, that's all she was: "the mage." The actress is listed second on IMDB, is supposed to be one of the stars of the film (and yes – she did rock it), BUT DOESN'T EVEN GET A NAME. Seriously, she's listed on IMDB as only "The Mage" who helped Arthur. Every other referenced mage in the film (Vortigern, Mordred, Merlin) all got to have names, but for her, her role was her only identity. The movie did attempt to give her a rough sense of additional backstory in that she was supposed to hate Vortigern for starting the war that decimated the mages, but even then, her sole role was to enable Arthur to beat him – not beat him herself or even assist in the final magical battle with him, which would honestly have made more sense plot-wise to have a mage take on another mage, but no, it was all Arthur with the magic sword.
And then, even then, after she is instrumental in the whole plot to teach Arthur to control he sword and aid him in overthrowing the evil king, she gets no acknowledgment. The ragtag band of men are all made knights and attend Arthur's coronation. Meanwhile she is outside the gates, and none of the other characters ever seem to even think about her again for the last 15-20 minutes of the film. She came, she served Arthur's plot, she was gone.
It was just… Disappointing. That's really the only word I can use. For a film I really truly wanted to love the hell out of, it just let me down over and over and over again. Le sigh. Sometimes I really wish I could just turn that critical writer part of my brain off, but sadly that didn't happen with this one.
Did any of you see the movie? Did you enjoy it/hate it/catch the same issues I did?



Please reload